Ugh, I'm tired. This might be short.
Basically, I haven't been doing much lately. I think my muse gets personally offended when I try to keep tabs on its progress. So I'm just going back to writing like normal. Which isn't too bad. I write every week, usually from 4-10 pages depending on how I'm feeling. So it's not like I'm stopping completely. But lately I have lost my passion for my original projects. I'm going to give it some time and see if it comes back. I'm sure it will. And then I'll just hit it hard as long as it lasts.
In other news. I got a new car! Well, new for me. Here is my baby. I love it.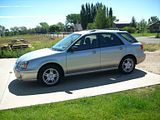 And I bought it all myself so I'm an adult now! I'm so proud of me! No one else's name is on this baby but mine. Of course. I've got a few years of payments, but then it will be all mine.
I went hope to Roosevelt last weekend which is while I am still so tired and hung over now. My whole family (aside from my mom) stays up until the wee hours of the morning and I did the same. So going back to my morning job SUCKED. I'm still feeling it. But I loved going back home, despite the bug infestations. It was just nice.
I got to see my nephew and my brand spanking new niece. Oh my nephew Carson is freaking hilarious. There's lots of great stories, but my favorite was when my brother took him to the park. He was playing with sticks, but Blake wanted to get him to go down the slide. So he goes down the slide himself and calls "Look Carson! Slide!"
And Carson, who is almost two, just looks at him "Good job, Dad" and goes back to playing with sticks. That kid cracks me up. Sadly, I do not have any pictures because I'm a moron when it comes to getting out the camera when I'm supposed to. But he's freaking adorable and I'm sure Kennedee will be, too when she's no longer all wrinkly.